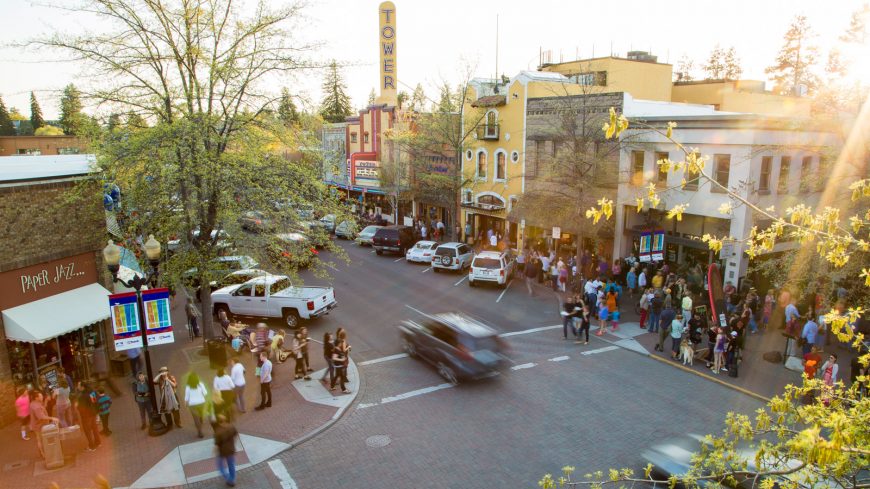 Check out the Convention Guide!
We are eagerly awaiting your arrival in Bend for the 2019 Fall Watercolor Society of Oregon Convention at Riverhouse on the Deschutes and Convention Center! It is a spacious and stunning venue on the banks of our Deschutes River. Bend lies over 3500 feet with warm clear days and cool nights in the fall. Bring layers to stay comfortable. Also, our air is dry. You need to drink lots of water (think quarts) to keep up your energy and avoid dehydration headaches! Bring a water bottle and use it. We will have water at every event.
Enjoy your journey to Bend as you cross a mountain pass either from the Portland area via Government Camp or the Willamette Valley via Santiam Pass. Mountain maples will be turning red and aspens golden. With luck you may spot deer or elk. Have cameras ready. Coming through Sisters? Stop at the Hood Ave Art Gallery where WSO Member Winnie Givot will curate a wall of watercolor paintings by local WSO Members. The show will hang through October 21, 2019; so, you have time to enjoy it.
What to do in Central Oregon? Your registration packet includes a "BEND, OR" visitor guide that has lots of information. However, even before leaving home, you can preview attractions at visitbend.com. City parks abound. A short drive up O.B. Riley Road from Riverhouse on the Deschutes is Sawyer Park, where trails lead across and along the Deschutes with sculpted lava rocks, swirling water, and feeding waterfowl.
Further along O.B. Riley Road lies our newest park, the Riley Ranch Preserve. You can walk along flat paved trails and catch stunning canyon and mountain views or take the trail down into the canyon to walk along the river. Set up a shuttle with a friend to do a one-way walk. No dogs allowed on the trail. Other iconic parks—Drake downtown or Pioneer Park and the 2nd St Rapids Trail. You can also venture up the Cascade Highway into the National Forest and mountains to find trails short and long, lakes for kayaking or canoeing, or trails for mountain biking.
Downtown, we have lots of shops, coffee houses, bookstores, galleries, and causal and fine restaurants. We have breweries scattered throughout the area. Play golf? We have courses from which to choose. The High Desert Museum south of Bend features award winning exhibits both inside and out. See raptors, otters, and porcupines up close. Explore!
Our Convention coincides with the October First Friday Art Walk, 5-8 pm, both downtown and in the Old Mill district. Look in your registration packet for a Gallery Guide and map showing all of the galleries. After our Meet & Greet, they will be expecting us. Look for Welcome Watercolor Society of Oregon signs in windows. Galleries and other stores provide snacks and beverages as a prelude to dinner downtown or in the Old Mill area. Layor Art Supply and Gallery at 100 NW Wall St will feature local watercolor artists for the month of October. Be sure to stop in, see the art, and thank them for being our local vendor.
On Saturday, October 5 we will focus on our Breakout Sessions, Paint Outs, and Critique Sessions with our Juror Joyce Hicks. Check out the Convention Guide! Our Fall Watercolor Exhibition of 80 juried paintings opens at 4 pm at The Barber Rotunda Gallery at the Central Oregon Community College. Carpool the short distance up Mt Washington Drive. There is ample parking next to the library. Then return to Riverhouse on the Deschutes for our Awards Banquet to cap a very busy day!
And on Sunday, we conclude our Convention with the Business Meeting and Juror Joyce Hicks' Lecture & Demo; so, rest well.
Linda Burgel, 2019 Fall Convention Co-chair
Timeline
August 17 – September 7, 2019:

Online Registration

September 7, 2019: Notification of acceptance into 2019 Fall Watercolor Exhibition by Juror Joyce Hicks.
September 14, 2019: Deadline to submit image for Juror's Critiques.
Submit image to: tarachoate130@gmail.com
October 1 & 2, 2019 (Tuesday & Wednesday): Shipped paintings to arrive
c/o Linda Burgel, 1530 NW
Baltimore Ave, Bend, OR 97703.
October 3, 2019 (Thursday) 10 am-2 pm: Hand delivered paintings to be delivered to the Painting Check-In Committee at the Barber Library on the Central Oregon Community College Campus, 2600 NW College Way, Bend. There is ample parking beside the Library.

The 2019 Fall Watercolor Exhibition at Barber Library will hang October 5 – December 7, 2019. Library hours: Mon-Thu 8 am-10 pm, Fri 8 am-6 pm, Sat & Sun 11am-6 pm

October 5, 2019 (Saturday) 8 am-4 pm: Pick-up for the 2019 Spring Award Winners Traveling Show at the Registration/Hospitality Table at Riverhouse Convention Center Lobby.
December 7, 2019 (Saturday) 11 am-2 pm: Painting pick-up of non-award-winning paintings from the 2019 Fall Watercolor Exhibition at the Barber Library.

The 2019 Fall Traveling Show of 20 Award Winners will move to the Canby Public Library, 220 NE 2nd Ave, Canby OR 97013.