WSO Convention Workshop
Workshops are held twice a year in conjunction with our conventions. They are normally held the week before or the week after the weekend activities and each is presented by the artist who juries the show at the convention. Workshops are limited to WSO Active Members and opened to Subscriber Members if spaces remain available.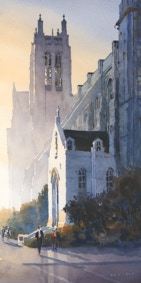 Michael Reardon Workshop
by Zsuzsa Vamos
The workshop with esteemed juror Michael Reardon will be your time to learn how to move forward and bring more of yourself, your feelings, your ideas, and your memories into your work. He will be there to teach, help and guide you. You will have private time to discuss your progress, receive advice and share your work with others.
What Michael says about the workshop:
"The main goal of my workshops is that students take their work to another level. I have found that focused attention on each student yields the best results. I have also developed techniques to teach the material clearly.
I begin each workshop day with a demonstration that relates to that day's theme. Each day emphasizes some aspect of painting, such as values, light, and composition. I place a strong emphasis on composition and have developed guidelines to help everyone improve their sense of design.
After the demonstration, participants do value studies and paint while I consult individually with everyone. Unlike in many workshops students work from their own photos. I do this partly because people are more engaged with their own photos, rather than use the instructor's materials (although people are welcome to work from my photo and demonstration of the day). It also provides direct guidance in ways to work with photographs to develop strong compositions.
At the end of each day we do a review of the day's work. During the review we go over the day's themes and assess what everyone has produced that day.
I believe that demonstrations are valuable, but I have found that the most effective way to teach is through active learning. Most of the education happens while students are actively painting, and during the final review. As a result, workshop students come out with a much stronger sense of composition, and almost always find that their painting skills see marked improvement."
The workshop will take place at the Royal Nebeker Art Gallery of Clatsop Community College Monday-Friday April 6-10, 8:00 am – 4:00 pm. To register, look in the February 2020 Watermark.
Download the supply list here.