2022 Spring Convention – Sip and Paint
Hillsboro, April 1-2-3, 2022
Workshop: April 4-5-6-7-8, 2022
Embassy Suites Hotel of Hillsboro
Tuality Masonic Lodge in Hillsboro
Hillsboro Brookwood Library
Join Us in Hillsboro!
The three Convention Chairs, Becky, Sandy and Zsuzsa would like to invite you to attend WSO's next Convention in the beautiful, vibrant, art-loving city of Hillsboro. Located just west of Portland, Hillsboro is home of high-tech companies, beautiful Libraries, art galleries, Nature Centers, a great variety of local restaurants and many more places worthy of exploring.
Another great asset of Hillsboro is that the surrounding hills provide excellent locations for vineyards and wineries. That inspired us to give this Convention the title: Sip and Paint. We ask you to come and enjoy good food, great art, and fantastic wines with us!
Registration and almost all of our Saturday events, such as the Vendor Fair, Logo merchandise table and Breakout Sessions will happen at the Embassy Suites Hotel in Hillsboro.
As always, we will line up WSO finest artists to be instructors for these popular events. Some of them will provide demos for all of us to learn new things, while others will have you participate and create together with your teacher.
We have a list of fantastic instructors, great artists who agreed to offer their time and talent for our breakout session.
Chris Stubbs
Mary Elle
…and many more.
This year many of our artist-instructors will also provide recorded Video Breakout Sessions for those WSO members who cannot come to the convention or simply just wish to see more that what is possible during the allotted time on Saturday.
After getting our registration packets, we'll move over to the beautiful hundred-year-old building of the Tuality Masonic Center. This will be the location for WSO's Board Meeting, the New Members' Meeting, the Friday Afternoon Meet & Greet, as well as Sunday morning Business Meeting and Juror's Demo. This will also be the location for the 5-day workshop following the Convention. The Large Dining Room area on the first floor will provide space for everything we need for these events.
Saturday night we will enter the Brookwood Library. The Brookwood Library's second-floor Gallery area has been hosting exhibits of Oregon's finest artist for decades. This is where our gallery exhibit will take place and we'll have our Artists' reception here too. Then, back to Embassy Suites for a delicious banquet meal.
Come to Hillsboro, join your WSO friends for a fun weekend in April 2022 for our next convention-adventure!
Juror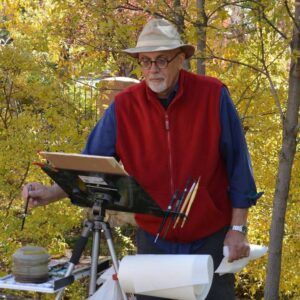 Michael Holter will be our juror and the instructor for our 5-day Workshop from April 4 to April 8, 2022.
If you wish to practice or learn to paint more loosely in an impressionistic style, this Workshop is the place for you.
In his workshop you will learn Michael's approach to the painting process from initial drawing and value studies through to completed painting.
His statement about his work:
"My work is impressionistic. I like to represent people or places and allow the painting to evolve from the structure of what is recognizable. The challenge is to balance the care needed to make the representation interesting … and perhaps believable, with the freedom, looseness and painterly quality that makes paintings so unique and expressive"
Hope to see you there!
But It's Not Open Yet!
Convention Registration is online for several weeks, ending about two (2) weeks before the convention week. You can expect this link to go active Around February 2022. Members receive an email with the link to the registration site the day before registration opens. If you do not receive an email, you can get a link by contacting the registration team at conventionregistrationwso@watercolorsocietyoforegon.com.