The Fall Transparent Convention and Exhibition will be in Salem October 7-9, 2022, with the workshop to follow October 10-13. Linda Kemp will be our Juror and workshop instructor.
Linda Kemp
Linda Kemp is internationally recognized for her unique contemporary watercolors and acrylics. Her innovative use of negative painting is the focus of her two best-selling books, Watercolor Painting Outside the Lines and Simplifying Design and Color For Artists. Linda is featured in art publications, video and internet forums, with over 1.5 million YouTube views.
She is honoured to be a Life Member of the Canadian Society of Painters in Water Colour (CSPWC), the Ontario Society of Artists (OSA) and a Life Member of the Society of Canadian Artists (SAC). Her award-winning paintings are in collections around the world, including The Royal Collection, Windsor Castle, U.K.
In 2008, Linda was awarded the A.J. Casson Medal for Outstanding Achievement in Water Colour, the top award for the CSPWC National Exhibition, Open Waters. In 2005, she was awarded Woman of the Year for Arts and Culture.
Linda instructs at symposiums and workshops throughout Canada, the United States, the United Kingdom and France and now online. She has served as juror for numerous national and international exhibitions, including the 2020 Women in Watercolor International Juried Competition.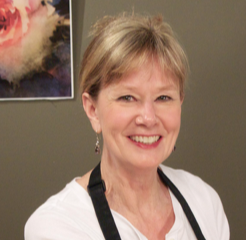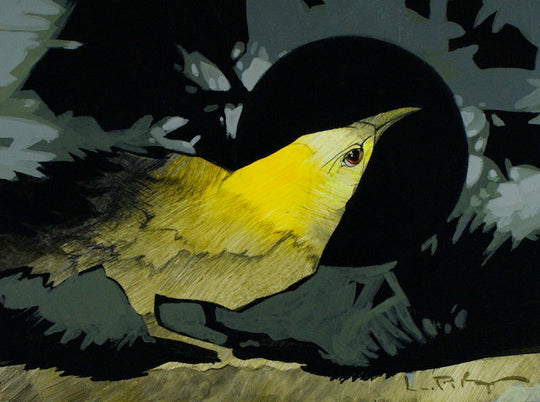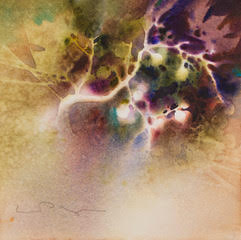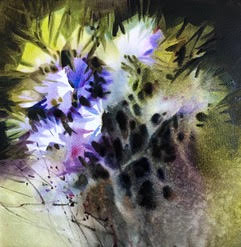 yellow bird follows a song
04JurorLindaKemppainting1
horse considers the horizon
Workshop Preview: Negative Painting Addicted
Registration is now open for this workshop!
Negative painting is an innovative approach to creating works of art and a fun exercise for your brain as you explore painting outside the lines!
All shall be revealed as Linda guides you through this artistic investigation of techniques that transform imagery into evocative, stylized paintings that are built with layers of negative shapes. Tactics for interpretation of subject matter, negative painting strategies, simplified design and basic color concepts, along with "seeing" for painting, are essential topics in this program.
In step-by-step lessons you will learn strategies for painting landscapes, nature's patterns and florals. You will discover secrets for making remarkable underpaintings, how to start, build and complete your original, unique artworks.
This stimulating workshop offers demonstrations, prepared notes, and individual painting time guided by friendly advice. You will take home several small studies and finished pieces and gain skills that will make you a more capable, accomplished painter.
Think positive with negative painting – it's addictive!
This program is suitable for all levels, although some painting experience is recommended.
The WSO workshop will be held at the Kroc Center.
About Salem
If Salem seems like a familiar locale for a convention, it's because we've booked the fabulous convention center and hotel for the last few Fall Conventions, and plan to do so in the future. You can't beat the accommodations, and the location is pretty easy for most Oregonians.
The Fall Exhibition will be at the popular Elsinore Gallery, which last year boasted more than half-a-dozen red dot awards.
Breakout Session Preview

Mojdeh's art of Persian Art and Nature (9:00 am)
Presenter: Mojdeh Bahar
Description: A visual presentation of Persian Art and Nature-a personal view
Mojdeh Bahar an award-winning artist whose work is collected nationally and internationally is presenting a personal reflection on Nature in Persian art and the influence it has on her work. She is utilizing her training in Persian miniature paintings and her vast experience/training/practice of the western style of washes and abstractions to create her work today. Come, sit back and enjoy this colorful visual journey of Persian Art through the artists personal reflection and take.
Video offered? Yes (presentation taped.)
No supply list; visual presentation.
Ask the Queen (Organizer) (9:00 am)
Presenter: Kristin Bertilson from Queen B Organizing will answer your questions about organizing your studio… or any other room in your home.
If you're like most artists, your studio is filled to the brim with supplies. Or you're working off the kitchen table. Ask questions of Kristin to help you create clutter out of chaos, enhance your studio's harmony, and give yourself some extra creativity (because you're not searching for supplies all the time.)
Video offered? No.
No supply list; question and answer session.
Pouring Sunflowers in Watercolor (9:00 am)
Presenter: Michelle Miller
Description: Pouring watercolor is a great way to begin a loose and interesting work of art. In this short session you will learn to pour, spray and blow to make your watercolors interesting by using various applications and techniques. Come and try out this fun way to start your beautiful painting.
Video offered? Yes (presentation taped.)
Supply List: 
Paper: I prefer Arches cold press sheets or blocks in 140 lb. If you use sheets, please also bring a hardboard and clips or masking tape to secure the paper. You may also use a good quality watercolor pad with 100% cotton. We'll use 2 sheets, 10"x 14". (1 sheet will be for practicing)
Brushes: I use larger round and flat brushes, please bring a variety so you can use them for different techniques. Rounds, small mop, #12, and #8, flat 1" and a firm ¼" for softening edges.
Paints: I use higher grade paints such as Winsor Newton and Daniel Smith, but you can find less expensive brands such as Cotman that will also work. Here is a list of colors I have in my palette:

Winsor Yellow (Hansa Yellow)
Quinacridone Rose or Alizarin Crimson
Thalo Blue (Winsor Blue Red Shade) or Prussian Blue

Other: Photo References of sunflowers or you can use the instructor's photo.
Plastic palette with large wells to hold and mix paints.
4 small salsa cups with lids – clean
Masking fluid
Light Plywood or Gatorboard to hold paper if bought in sheets 11"x 15"
Masking tape to secure paper to board
Water containers for cleaning out brushes
Spray bottle
Bendable drinking straw
Hair dryer
Salt, plastic wrap, alcohol, tooth brush for textures
Paper towels or Kleenex
Sketchbook, pencil and kneaded eraser
You can find most of the art supplies at the Art Department in Salem, Michaels Arts and Craft or Hobby Lobby, or purchase online at Cheap Joe's or Blick Art Supplies. Other items can be found around the house.

So What Are the Five Depth Clues? (9:00 am)
Presenter: Rebecca Sentgeorge
Description: The mission of this breakout is to teach spatial awareness of the element of depth through the understanding of the five ways the brain processes visual depth clues. This breakout will include experiential learning through both interactive lecture and hands on painting. Rebecca, a school art teacher for 40 years, will make learning fun as you go go beyond the concepts of foreground mid ground and background, to what really makes your brain "read" the depth in a painting. Rebecca will show you in a way you will remember how to look at your work and see when you have made a common depth clue errors. You will leave the breakout with small painted examples that you will create that will remind you of your learning.
Video offered? Yes (presentation taped.)
Supply List:
Your normal painting supplies
2-3 small sheets of watercolor paper – one could be the back of a used painting
scissors
glue stick
pencil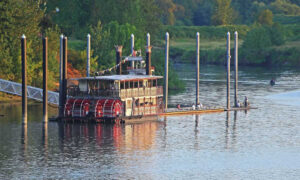 Paint the Waterfront with Kim (9:00 am)
Presenter: Kim E. Smith
Description: Join award-winning artist Kim E. Smith for a plein air session at lovely Salem Riverfront Park. Walking distance from the convention center, painters will have a variety of appealing views of the Willamette River, Pringle Creek, the Steamwheeler Willamette Queen, Peter Courtney Minto Island Bridge, and the Salem's Riverfront Carousel.
There's a lot to see and explore, so bring sketch book and paints. Painters are encouraged to find and develop what appeals to them. Kim will give a short demo on how to be decisive and quick with your image and how to find what is important to you and get that in first! (Hint: Use Big brushes! Details can be added later.)
Kim will be available for 3 full hours to give feedback as wanted. The group wbe meeting at the Carousel at 101 Front Street NE.
Video offered? No.
Creating a Digital Sketchbook (10:45 am)
Presenter: Elizabeth Zimmerman
Description: Have you ever wanted to sketch and create while out and about but don't want to set up all of your paints? Do you have an iPad and have been wanting to figure out ProCreate so that you can draw some ideas? Or have you been thinking of dipping your toes into doing some digital illustrations, but not sure how to start?
Elizabeth will be going over all the basic, but important, steps of utilizing ProCreate on your iPad. You will learn how to create a canvas, select colors, use brushes, utilizing layers, some shortcuts, and more! Even if you don't own an iPad, but have been on the fence about it, this class will help you decide. Participants are encouraged to bring their iPad with ProCreate downloaded ($10 app in Apple Store) and a stylist (like an Apple Pencil) is optional, but very useful.
Video offered? No.
Supply list: None, but participants are encouraged to bring their iPad with ProCreate to follow along with the exercises.
Tempting Trees (10:45 am)
Presenter: Alisha Whitman
Description: If you're a landscape painter living in the PNW, then you need to be comfortable painting trees. Come learn from great master artist examples, discuss tips and tricks to making your trees look interesting and unique, and practice a variety of techniques to give them movement and energy.
Video offered? Yes (presentation taped.)
Supply list:
a variety of greens, blues, browns, and purples (my four favorites are Leaf Green, Indigo, Deep Purple, and Burnt Sienna by Da Vinci paints)
a small and large round brush
watercolor paper and other surfaces like aquabord (optional)
x-acto knife
piece of matboard or cardboard to cut on top of
Dynamic value studies with liquid charcoal (10:45 am)
Presenter: Tara Choate
Description: Tara Choate will lead an exploration of painting with liquid charcoal. First, play with the medium of liquid charcoal. Then, follow along with value sketches on pre-treated pieces of paper. Finally, run amok with a variety of tools to create new and exciting effects. Liquid charcoal is a great way to experiment with adding drama to your paintings.
Video offered? Yes (video created pre-presentation).
Supply list:
1/4 sheet of watercolor paper (can be the back of an old painting, gessoed surface, or completely clean paper)
Smaller, medium, and large brush (one each)
Small container for holding water
Paper towels
Optional: Mark making items (palette knives, scratchers, etc.)
Optional: Vine charcoal or similar for mark-making.
Optional: Hard pastel for mark-making.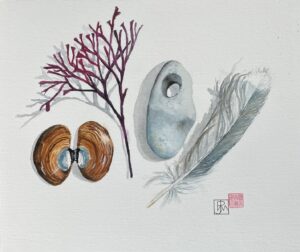 Beauty and the Beach (1:30 pm)
Presenter: JoAnn Pari-Mueller
Description: Stones, seaweed, and shells, oh my! Join JoAnn Pari-Mueller to learn some tips to capture their essence on paper and make a beautiful gift tag to take with you. Watercolor paper gift tags provided and beach finds provided to use in class.
Video offered? Yes (presentation taped.)
Supply list:
9 X 12 piece of good quality watercolor paper (hot or cold press, your choice).
Watercolor brushes, sizes 10, 6 or 8, and smaller one for details.
Good quality watercolor paint palette.
Water container.
Pencil, eraser, 12″ ruler.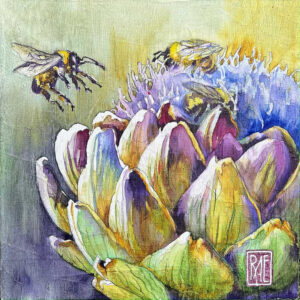 Mixing Media on a Watermedia Panel (1:30 pm)
Presenter: Rene Eisenbart
Description: "Back by popular demand", the talented Rene Eisenbart demonstrates painting on Watermedia Panels. Bring your paints and try out new strategies as Rene leads you through painting on your very own Watermedia Panel (donated by American Easel). These panels, framed in wood and coated with the Watermedia surface, are ready to paint and easy to finish and hang. You'll see how ideal this surface is for all types of painting and how you can fix anything when you want to make changes in your watercolor painting. Take the fear out of working on a panel with this guided hands-on experience.
Video offered? Yes (presentation taped.)
Supply list:
Your normal painting supplies (bring what you have or check Rene's class supply list to see her recommendations at Merri Artist (discount code RE19C gives you 10% off at checkout).
Brushes, water container
Pencil & Kneaded eraser
Cloth rag
X-acto knife
Reference photo and sketch for making a 12×12 painting
Plastic lid or other extra paint-mixing area
Notan, No Problem (1:30 pm)
Presenter: Beth Verheyden
Description: Light and dark, positive and negative, yin and yang – all these elements describe the ancient Japanese concept of Notan. When applied to our compositions, Notan allows us to see the simple patterns of light and dark and the positive and negative shapes in our paintings without the interference of line, color or brushwork.
In this hands-on session, you will create a Notan study of paintings by Masters Andrew Wyeth, John Singer-Sargent, James Abbott McNeill Whistler, Paul Klee, Leonardo da Vinci and more, using just black and white paper. Use this information and simple technique to create powerful Notan studies of your own paintings or sketches back in your studio, and Notan will become "No Problem"!
Video offered? No.
Supply list: scissors (Instructor will provide the remaining materials (visuals and paper for cutting). There will be no painting in this session.)