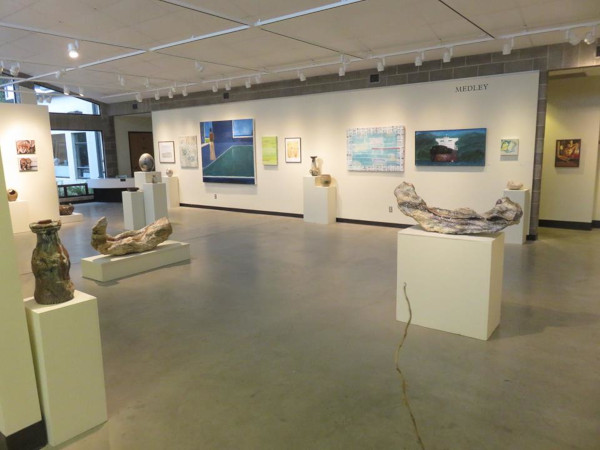 Please note: The Spring 2020 WSO Convention has been cancelled. Please go to this post for more details.
2020 Spring Convention, Astoria
April 3-5, 2020
By Zsuzsa Vamos
Time to make plans for WSO's next big event! The 2020 Spring Convention and Experimental Exhibition, Art On The Bay, will take place April 3-5, in Astoria. The three-day convention will open at the Liberty Theater in downtown Astoria. This 100-year-old building will be our headquarters for the following activities: Registration, Vendors, Logo Merchandise Sales, Breakout Sessions, and Sunday Business Meeting.
The rest of our activities will be held on the Clatsop Community College campus, about one mile up the hill from Liberty Theater. The Royal Nebeker Art Gallery will host the Exhibition, Artists' Reception, and Juror's Workshop.
The Banquet will be in the Patriot Hall building just across the street from the Gallery. The Gallery is large, modern, and has a lot of natural light. This will also be the location where the 80 accepted artists will drop off their paintings on Thursday morning, April 2.
Astoria also offers a wide variety of entertainment for our non-watercolorist friends and family members. The Columbia River Maritime Museum, the Flavel House Museum, Dots 'N Doodles Art Supplies, and a lot of restaurants and cafes are there to satisfy every wish. If you are more of an outdoor person, it's just a short a distance to the beautiful Astoria Riverwalk, the Astoria Column, or the ocean.
Saturday Breakout Sessions
Anji Grainger will teach the magic of generating texture and depth in your paintings using the stamps you create with her.
Harold Walkup will demonstrate painting a landscape wet-in-wet with Acrylic Ink. It will be just messy enough to be fun!
Under Chris Stubbs's leadership, you will experience the joy of painting your grandchildren.
Brooks Hickerson will invite you to "boldly go where you have not gone before," by painting plein air using acrylic over a previous watercolor or acrylic on paper.
In Winnie Givot's hands-on class you will begin or continue a watercolor journal, exploring several ways to record your journeys, whether traveling or at home. You will play with painting, writing, and page embellishments on watercolor paper in a simple handmade journal.
Elaine Pawski's class will cover how modern technology can help us design, plan, and test different aspects of our paintings. Her drawing and painting demonstration will focus on using an iPad as a tool to aid the creative process. She will share some tips on preliminary sketches for paintings, troubleshooting paintings in progress, and trying out different scenarios by photographing your art and painting over the photo in layers.